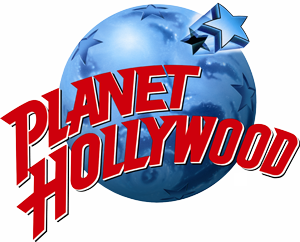 The Mega-Star of themed restaurants, Planet Hollywood is a phenomenon whose success displays the power of marketing and a finely-crafted graphic identity.
In 1991, Matt Merkel worked with the marketing team of founder Robert Earl, former President and CEO of Hard Rock Cafe, to develop a new themed restaurant chain inspired by the glamour and excitement of the big screen. Together with celebrity investors Sylvester Stallone, Arnold Schwarzenegger, Bruce Willis and Demi Moore, the team molded a visionary concept into the dynamic brand that has become a pop-culture icon recognized throughout the world.
Matt designed the initial menus, marketing collateral and advertising, apparel, merchandise and signage that helped to launch the brand. Every facet of the chain's brand, even the restaurant architecture, was derived from the Planet's eye-catching logo, designed and illustrated by Matt Merkel.
At its peak, the franchise grew to over 100 worldwide restaurant locations and now operates a luxury hotel and casino in Las Vegas, an all-inclusive luxury resort in Goa with additional resorts due to open soon in Costa Rica and Cancun.